CATS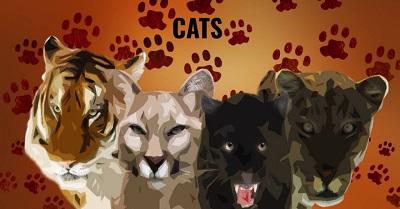 There is an ancient proverb which states that "Cats have Nine Lives". For three he plays, for three he stays and for three he strays. Well these Cats have certainly stayed to play and remain a fan favourite in the DoubleDown Casino. With a dozen or so slot games featuring felines, I dare to say we have some cat lovin players out there. These Kitties are not found on grandma's sweatshirt as they are the Big Cat version. Panthers, Lions, Tigers, Cheetah's and Cougars roam the Savanna Grasslands of Africa and roar when we win. This majestic game is found in the Popular Slot Lobby.

Let's Play!

Cats is played on a 5 x 3, 30 payline format. Wins are from left to right. The Mobile Version plays very smoothly.

Symbols

Cats offers a Split Symbol feature which is exclusive to IGT. Each of the 5 Single Cats also have a Split Symbol or Two Cat heads are better than one, to be precise. This allows for up to 10 of a kind for each Cat Symbol. You must get three of a kind for a win.

10 Panthers is on top of the food chain and win 2500 x wager

10 Lions,10 Tigers,10 Cheetahs or 10 Cougars compete equally and win 1000 x wager

The Cats Logo is Wild and substitutes for all Symbols except for the Scatter. The logo doubles when paired with one of the Cats to make an easy 3 or more of a kind. For example, 2 Single Panthers and 1 Cat Logo = 4 Panther Symbols

5 Cat Logos wins 10 000 x wager.

There are 4 Face Cards or Ace, King, Queen and Jack

5 Aces win 200 x wager and 5 Kings, 5 Queens or 5 Jacks win 100 x wager

Bonus Time! Paws for thought!

There are two Scatter Bonus Symbols. A Single Paw Symbol and a Double Paw Symbol, which counts as two.

4 Paws wins the Scatter Bonus of 2x wager

5 Paws triggers 5 Free Spins in the Bonus Round

6 Paws triggers 10 Free Spins in the Bonus Round

Whatever you win, you spin as there isn't a re trigger feature in this bonus round.

Sound

A wild drum beats a tune and as you win the Cats Roar! The best sound is the chiming of your balance increasing as wins are awarded. Big Wins are highlighted courtesy of a friendly panther.

Cats has become a DoubleDown Classic of sorts as it has been on the menu for quite a while. Even if you are a devoted "dog person" you must give Cats a nip.

Good-Luck Everyone!
Double Down Casino chips hold no real-world monetary value and cannot be traded for any tangible products or services
Additional Information
Thank you for choosing DDPCshares.com as your go to place for all things double down casino. To keep our environment positive,peaceful and friendly we have a few community guidelines we ask our community members to follow. Failure to adhere to these rules may get your posting privileges revoked both here and on our facebook page.

This site was created to develop a safe, scam free and positive environment where we can share all things double down casino. If you can not flourish in this type of environment maybe this place is not for you. We will not tolerate any slander or libel against Double Down Casino or their affiliates. You will be banned without notice.
DDPCshares.com Official Facebook Page:
https://www.facebook.com/DDPCsharesonline
We are not Double Down Casino:
https://www.ddpcshares.com/double_down_casino_helpful_information/10854/We_Are_DDPCShares!
DDPCshares.com Forums:
https://www.ddpcshares.com/forum/
Helpful information on Double Down Casino:
https://www.ddpcshares.com/double_down_casino_helpful_information
Community Guidelines:
https://www.ddpcshares.com/forum/viewtopic.php?f=5&t=237
Contact Double Down Casino directly:
https://www.ddpcshares.com/contact_double_down
testing read more