PIGGY JACKPOTS!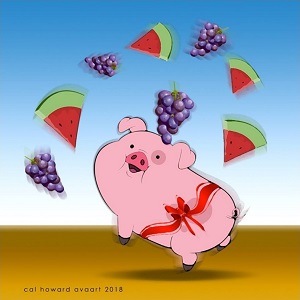 DoubleDown has added a new game to the Slot Lobby, Drumroll please, Now Presenting... Piggy Jackpots! This ham of a game is played in a 3 x 3, 40 Paylines format which allows for plenty of wee wins and easy Jackpot potential. Entertaining animation and designed for "Reel Feel" play. Piggy Jackpots is a charmer.

Every spin is eligible for a Jackpot win. Jackpot amounts are relative to your wager. The bigger the wager, the bigger the Jackpot potential. 4 Piggy's anywhere on the paylines wins the 200 x wager Jackpot prize. The Jackpots increase from there, any 5, any 6, any 7, any 8 and finally with any 9 Piggy Symbols winning the Grand Jackpot! A 15 k wager can net you a Jackpot of 37 million!

There are 10 symbols in total. They say you can't put lipstick on a pig, but you can tie a ribbon on it!

The Piggy with the Yellow Ribbon Symbol is the "Bonus Scatter". 3 of these will trigger a bonus round of 7 Free Spins. 4 will trigger 10 Free Spins and 5 will trigger 10 Free Spins. These appear on the 1st, 3rd, 5th, 7th, and 9th reel only and lock on the 1st, 5th, and 9th reel. The 3 Bonus Scatter Symbols remain locked for the entire bonus round, making Jackpots easier to win.

The Piggy with the Red Ribbon Symbol triggers the Re-spin Feature. One or more of these Symbols locks all Piggy Symbols and activates 1 Re-Spin. Winnings from these locked symbols are paid after the Re-spin.

There is a third Piggy. He didn't win a ribbon but is still extremely valuable as he can make up Jackpot wins all on his own. He also gives you a cheeky smile when you win!

7's, Bars, Grapes, Watermelons and Cherries are your remaining symbols giving this game a touch of Classic play.

You will have to fill the board, 9 squares for these max wins:

Piggy Jackpots looks like the real deal. The jackpots are displayed on the left with an easily accessed pay table and Auto play option.

If you miss sitting in a Brick and Mortar Casino just turn up the volume. The soundtrack plays like a real Casino. You can hear other players laughing and their machines paying out. I hope yours are paying out too! Give Piggy Jackpots a try!

Good-Luck Everyone!
Additional Information
Thank you for choosing DDPCshares.com as your go to place for all things double down casino. To keep our environment positive,peaceful and friendly we have a few community guidelines we ask our community members to follow. Failure to adhere to these rules may get your posting privileges revoked both here and on our facebook page.

This site was created to develop a safe, scam free and positive environment where we can share all things double down casino. If you can not flourish in this type of environment maybe this place is not for you. We will not tolerate any slander or libel against Double Down Casino or their affiliates. You will be banned without notice.
DDPCshares.com Official Facebook Page:
https://www.facebook.com/DDPCsharesonline
We are not Double Down Casino:
https://www.ddpcshares.com/double_down_casino_helpful_information/10854/We_Are_DDPCShares!
DDPCshares.com Forums:
https://www.ddpcshares.com/forum/
Helpful information on Double Down Casino:
https://www.ddpcshares.com/double_down_casino_helpful_information
Community Guidelines:
https://www.ddpcshares.com/forum/viewtopic.php?f=5&t=237
Contact Double Down Casino directly:
https://www.ddpcshares.com/contact_double_down
testing read more