ShamRockers. "Eire to Rock"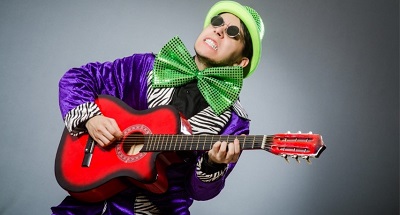 With a blend of Rock 'n' Roll and the Luck of the Irish, ShamRockers is a March favourite for those of us looking for a slot to accompany our frosty mug of green beer. Designed for St. Patrick's Day fun, IGT added a funky twist to an Irish themed game with some colourful characters. The band of 4 rocking Leprechauns play on a rainbow stage offering 20 paylines set over 5 x 3 reels paying left to right. IGT added the "Dynamic Stack Feature" to ShamRockers. On every spin, a random symbol is chosen to be stacked. (full reel of the same symbol). 5 stacks equal a great payout or pot of gold if you prefer. The concert includes some great guitar riffs and an enthusiastic audience that cheers you on.

Let's meet the band! Four stylish and Irish musicians ready to play!

The lead singer is the highest paying symbol, (aren't they all?) and looks a little like a Ginger Elvis. He pays out 500 x for five.

The guitarist who may be a doppelganger for a famous Beatle, "Imagine" who, pays out at 250 x for five.

The drummer, a cool Pat Benatar type, reels in 100 x for five

Finally, the fiddler who actually looks like a leprechaun playing a fiddle pays 75x for five.

The Ace, King, Queen, Jack and Ten back up the band as well. These symbols pay from 30x to 20 x for five of a kind.



The "Wild" is the Shamrock or three leaf Clover. It applies to all symbols except for the bonus. The three leaves are said to represent Faith, Hope and Love but here they mean win, win and win!

Bonus Time!

3 Bonus Scatter symbols on reels 2, 3 and 4 brings you to the Big Show and pays out 2x the total bet! 4 Free spins are awarded. The stacked symbol is predetermined for each of the four spins. The first spin is stacked with the fiddler, the second is stacked with the drummer, the third is stacked with the guitarist and finally the last spin is stacked with lead singer. If you are hoping for an Encore you just may get one! Landing the VIP Encore ticket on the final spin re-triggers the bonus round up to a lucky 240 free spins. The VIP Encore symbol is found on the fifth reel and valid on the fourth spin only.

I love a holiday themed slot and so does DoubleDown. Their lobby is full of clovers, horseshoes and pots of gold this time of year. I hear an Irish Jig calling me and maybe a few spins with the ShamRockers.

Good-Luck Everyone!
Double Down Casino chips hold no real-world monetary value and cannot be traded for any tangible products or services
Additional Information
Thank you for choosing DDPCshares.com as your go to place for all things double down casino. To keep our environment positive,peaceful and friendly we have a few community guidelines we ask our community members to follow. Failure to adhere to these rules may get your posting privileges revoked both here and on our facebook page.

This site was created to develop a safe, scam free and positive environment where we can share all things double down casino. If you can not flourish in this type of environment maybe this place is not for you. We will not tolerate any slander or libel against Double Down Casino or their affiliates. You will be banned without notice.
DDPCshares.com Official Facebook Page:
https://www.facebook.com/DDPCsharesonline
We are not Double Down Casino:
https://www.ddpcshares.com/double_down_casino_helpful_information/10854/We_Are_DDPCShares!
DDPCshares.com Forums:
https://www.ddpcshares.com/forum/
Helpful information on Double Down Casino:
https://www.ddpcshares.com/double_down_casino_helpful_information
Community Guidelines:
https://www.ddpcshares.com/forum/viewtopic.php?f=5&t=237
Contact Double Down Casino directly:
https://www.ddpcshares.com/contact_double_down
testing read more